Best e-Learning
Animation Software
Effective modern eLearning usually does not entail reading page after page of a textbook or staring blankly at a teacher in a classroom.

Even business presentations, notorious for being long-winded and staid, can have more personality and energy to them. That's why eLearning animation software is important.
Students and professionals of all ages and disciplines have begun to reap the benefits of eLearning animation. This type of learning increases retention rates, overall revenue, and employee engagement. Additionally, eLearning consumers have an average of 90 percent more energy than traditional learning, making it sustainable in the long term, according to an article published by Shift eLearning, about facts and stats that reveal the power of eLearning.
By learning how to integrate eLearning animation software, you can create a much more productive work and learning environment. With so many options of software for eLearning videos available, however, it can be difficult to know where to get started.
That's where we come in. In this article, we will be taking an in-depth look at some of the most popular eLearning animation software out there. We will be discussing the pros and cons of:
After this extensive look into the world of eLearning animation software, you and your company will be ready to take off into more creative and profitable lands.
Do you want to learn more about eLearning Video Animation? Read more here

Vyond: Take Advantage of the Power of Video
If you have room in the budget for a high-end, multifaceted program, then Vyond might work for you.
Vyond was started in 2007 and has since served 12 million registered users on six continents. Customers can sign up for one of four plans, all of which are unique in the number of styles, level of security, and amount of provided training.
Video Styles: Vyond offers three unique animation styles: business-friendly, whiteboard, and contemporary. The contemporary style is not included in the Essential package, however.
Available Support: The world of eLearning animation software can be a foreign and challenging territory; however, with Vyond's Premium, Professional and Enterprise packages, you can gain access to a live, in-house support team, connect with members of the Vyond community, and connect to a professional over the phone (only available in Professional and Enterprise packages).
Royalty-Free Music Library: On top of the friendly user-interface tools for animating your company's video, Vyond offers a full library full of royalty-free music available for use. Music is a vital part of any great eLearning video. Now, you don't have to worry about copyright issues when borrowing music from other sites.
Price: Vyond is one of the most expensive eLearning animation tools out there with the most basic plan costing $49 per month or $299 for an annual plan. The most expensive plan costs over $160 a month or $999 for the year.
Customer Support Access: While the customer support available to Premium, Professional, and Enterprise members is excellent, you will not be able to access it if you are paying for a basic package.
To summarize, Vyond is full of different styles and tools that make your company's animation process smooth and customizable; however, you are going to need to invest a large amount in order to get the payoff.
In light of this, Vyond is better suited for those familiar with eLearning animation tools. You can view some of their Vyond customer videos to see if it's right for you.

Powtoon: Break Through the Noise with
Visual Communications
Next, let's dive into Powtoon, a popular choice among renowned brands such as Starbucks, Coca-Cola, and Costco. In fact, 96 percent of Fortune 500 companies use this eLearning animation software.
When compared to Vyond, Powtoon offers a wider range of prices and packages and more accessible customer support. Free demos, free trials, and priority support are granted in all Powtoon plans.
Powtoon users worldwide and over 30 million Powtoons have been created. For those less familiar with eLearning animation software and who don't have an excessive amount to spend on animation videos, take a look into Powtoon.
User Friendly: Powtoon is a company that is ready and prepared to walk you through the steps of your animation process. Their support page offers tutorials and easy guides to lead you through the most frequently asked questions. All of this is available on even the most basic plan.
Diverse Template Gallery: Powtoon offers dozens of different video templates, ranging from sales to HR to holiday and events. Each template is extremely customizable to meet the needs of you and your organization. Additionally, five video styles are available–two more than Vyond!
Pricing: While definitely not the best in the business, Powtoon does have more affordable plans available. Their lowest monthly service (besides their free packaging with just 3 minutes of video available) costs $89 per month or $228 per year. Their most expensive service package, however, is actually more expensive than Vyond, with a monthly cost of $99 or an annual package of $1188.
No Video Timeline: Sticking to one style throughout an entire video can pose a challenge when using Powtoon. Without a video timeline, it can be difficult to gauge how long each scene will take and how it will match the background music can pose a challenge. On the upside, however, a royalty-free music library is available.
No Separate Scene Styles: While it can be beneficial to have a wide range of design and animation options to choose from you may struggle in searching through page after page to find matching content
No eLearning animation software can be perfect, and Powtoon definitely has its downsides. For companies looking for a user-friendly software with plenty of options, however, Powtoon might be a perfectly viable option.
But act fast, because Powtoon is offering 3 months free with every Business Plan until the end of June. For more information, visit their website or request a demo today.

Doodly and Toonly: For Creating Amazingly
Engaging Videos Fast
Two similar but also very distinct programs are Doodly and Toonly. While Doodly is a separate organization from Toonly, they are owned by the same parent company, Bryxen. Since each software offers similar pricing and features, we will combine our review of them for simplicity's sake.
The key difference between Doodly and Toonly is the style of content you will receive. Toonly obviously focuses more on cartoon-like creations, while Doodly features a whiteboard style. Both market themselves as the eLearning animation software to use regardless of technical or design skills.
If it does prove to be too complex, however, there is a 30-day money-back guarantee. This is a great way to get started into the animation software business with the option of getting every penny back.
No Skill Needed: There is no doubt that Doodly and Toonly is the eLearning animation software for those with little to no design or animation experience. You can just drag and drop either pre-designed figures or custom images into the design template and be on your way to creating high-end animations.
Export Options: Doodly and Toonly allow you to export your animated videos in various mp4 file sizes, resolutions, and quality. With this option, you can take up as much–or as little space on your hard drive as you want. Options range from 480p to 1080p.
Extremely Affordable: While both of the previous eLearning animation software reviews landed above $80 per month, you can use Toonly and Doodly for just $39 per month, or $240 for an annual plan. This is much more manageable for smaller companies just learning how to use animation. The most expensive plan for these companies lands at $69 per month or $480 per year, which still costs much less than Vyond or PowToon.
Purchased Separately: Don't get confused, Doodly is a different company than Toonly. With that, you have to purchase them each separately. While this may be cost-effective for companies who do not need a diverse range of animation styles, Vyond and other companies integrate these two styles for one price. At the end of the day, this can be detrimental to your company if more animation styles are demanded.
While this eLearning animation software may not satisfy companies with high animation goals, it is great for those who are looking to get started in the world of video marketing. When compared to other companies, such as Vyond, you have fewer video styles and customization tools.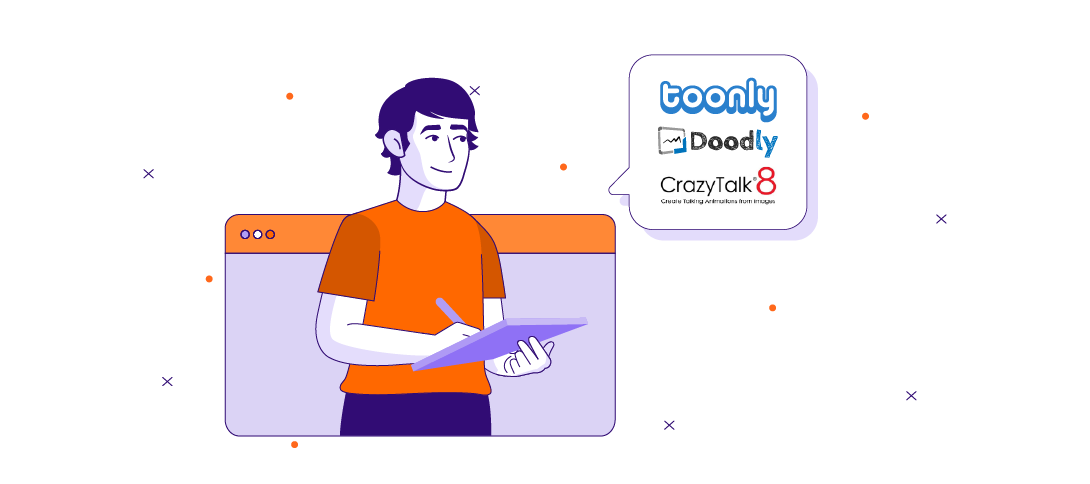 Finally, there is CrazyTalk. This software is slightly different from mentioned above, as it is more focused on 2D and 3D character creation. To manage this, CrazyTalk has a direct Photoshop animation pipeline to import and export original creations.
Purchasing options also differ from many of the other programs. Instead of two or three packages that offer limited features, those who purchase CrazyTalk have the choice between different bundles for different needs.
For example, types of bundles include the Character Bundle, the Head Tool Bundle, the Facial Mocap Bundle, and the Facial Mocap Bundle with G3 content. Like Doodly and Toonly, however, there is a money-back guarantee–though this one only lasts 14 days.
Options for Windows and Mac: CrazyTalk has options available for both Windows computers and Mac computers. This is vital to ensuring your eLearning animation software runs as smoothly as possible from the first click to export.
Optional Add-Ons: Because of the bundle style purchasing, there are multiple add-ons available for your animation purposes. For example, an iPhone Live Face Profile feature is available for $399, a Leap Motion Hand Mocap is available for $99.00, and a perception Neuron Body Mocap is available for $999. You can also purchase a training bundle for $97.
Available Presets: Though CrazyTalk does allow the option to import your own designs, there is also a wide range of presets available for use. As a customer, you will have access to faces, sounds, props, and backgrounds. This makes the animation process easy and individualized.
High-End Pricing: Don't be surprised when you see how much CrazyTalk's bundles will cost you. If you didn't guess from the add-on prices, you most likely will not be able to purchase CrazyTalk's services with piggy bank money. The most affordable package starts at $119, and the most expensive reaches $1,290–the most expensive plan on this list.
Inaccessibility to Some Important Functions: We touched upon it above, but it is worth noting that CrazyTalk keeps some of its most valuable features behind a paywall. While the program is not usable without many of these features, it also might provide the value you are looking for depending on your organization's needs.
For companies interested in focusing on facial animation or expressing a lot of emotion, take a dive into CrazyTalk's eLearning animation software with your 14-day free trial. If your budget allows, you can even gain access to the programs Premium Member Program, 32 characters, 188 motions, and 167 props.

There you have it: a breakdown of the top eLearning video animation software for businesses. As you can see, there are plenty of options out there that can help your business meet its video production needs. However, choosing the one that best meets your company's individual needs can be a challenge.
At the end of the day, creating effective and efficient eLearning videos takes time, practice, and patience. For companies that want more immediate results, however, Ninja Tropic is the place to go.
Contact the Ninja Tropic team to get in touch with an eLearning expert and make your video marketing process pleasant, productive, and profitable. Visit our website to see our favorite samples or get a free consultation today!
Scripting a eLearning Video vs SCORM Course
How to create Microlearning Video Animation in 6 steps!
Improve Your Corporate Training Experience Through Microlearning
Visual Appeal: 5 Microlearning LMS That Use Video